Stephanie La Motta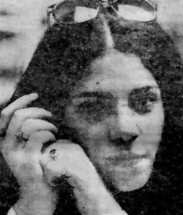 Stephanie was born in 1960 to American world-boxing Champion Raging Bull Jake La Motta and his wife Dimitria (who was known as Dolly). She was brought up in New York and gained early on from her parents a philosophic outlook and a great inner strength which served her well in her varying career life as an aspiring actress, a fitness guru, and in her magazine work.
She moved to England and settled down in London where she felt truly international with her American upbringing and her Greek heritage. "I am three parts Greek and speak the language fluently." During her time in London, Stephanie used to visit the famous London nightclub Tramp and this was where she came into contact with Beatles drummer, Ringo Starr, and the pair of them hit it off right away, becomming quite inseperable.
"When I was first introduced to Ringo in Tramp, the London nightclub, I didn't see anything but his big, beautiful, deep blue eyes. He asked if my waist-length hair was my own, then tugged it to check. I replied: 'You could never but hair like this in a store.' Somehow over that drink the conversation got around to how Ringo hates New York because it's full of cockroaches, so we clinked glasses and toasted the death of all cockroaches. I said he reminded me of Humphrey Bogart. Ringo - by this time I was calling him Richard - suavely lit two cigarettes in his mouth and gave me one. I couldn't help giggling. I thought he was doing a Bogart. Then I realised it was Paul Henreid who did that for Bette Davis in Now Voyager. As we held hands under the table, he asked if I would go to Vienna with him next day. I couldn't make up my mind. Ringo took me to a Mayfair disco and gave the doorman £100 to open up in the wee small hours so that we could dance for an hour. When Ringo toasted us with champagne he joked, 'The bubbles tickle my nose.' He has quite a large nose. It's quite adorable but his whole nose seemed to go right down into the champagne glass. Then Ringo's ex-wife Maureen happened to come up, stared, looked me up and down and joked: 'Who is this, Ringo, the next Mrs Starkey?' Ringo answered gently, 'Maybe Maureen, but be sure you'll be the first to know.' She was dismissed. He mentioned Vienna again, assuring me he wasn't in the habit of picking up girls and flying of with them."
Stephanie made her mind up this time, collected her clothes and moved into Ringo's Dorchester Hotel suite.
"I thought 'My God, I'm going to have to sleep with this man tonight.' I stared at the two double beds. I didn't want to sleep with him, have sex with him. I wanted to get to know him first. 'It's alright darlin,' Ringo said. 'That's your bed and the other one's mine.' I usually sleep in a football sweatshirt with knee socks but I thought, 'I can't put them on.' So I put on a nightgown..Ringo looked over the top of his newspaper and said, 'On second thoughts, darlin', that's your bed and it's my bed too -but only if you want it to be.' I said yes I want it to be that way for now. But I fell fast asleep and an hour and 15 minutes later I woke up to find Ringo standing over my bed. I honestly thought I was dreaming. He said it was time to get dressed and leave for the airport.
"Later as we drove into Vienna from the airport, I wanted to use the bathroom. So we stopped at a little bar. Ringo insisted on coming with me and standing guard outside the ladies. Can you imagine? He has such good manners. Like the time he was in bed and found he had his back to me. He apologised and turned to face me - even though we were in the dark. Though we were already 'in like with each other,' as Ringo put it, that's where our days and nights of passion started, in that kingsize bed in the Bristol Hotel, Vienna... It suprised Ringo that I was so inexperienced, I think he was pleased I hadn't slept with many men."
While In Vienna Stephanie started to feel very unwell but tried to hide it as best as she could.
"My vision was getting blurry, and for five minutes everything went black in my left eye. When I woke up I had a bad pain on the side of my head and in my left eyeball. I didn't tell him about it because I didn't want to spoil our happiness in Vienna. So he didn't know what was going on. Then, just as he always did, he started to make me laugh. 'Did I ever tell you about the time I got my nose stuck in a door?' he joked. As we left the restaurant we danced down the street singing Singing In The Rain."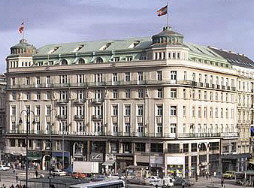 It was during their stay at the Bristol Hotel in Vienna that Stephanie had her first meeting with another famous musician.
"I fell asleep in my little black camisole top and woke to find Ringo fast asleep wearing his mid-thigh length blue silk pyjama top buttoned right up to the neck. I heard somebody pounding on the door. It was a big scruffy man, but a handsome man, with shaggy reddish hair asking for Ringo. He looked sinister and sounded sinister. Suddenly he grabbed my breasts from behind. I screamed and struggled and woke Ringo. As he and the stranger hugged, I heard the guy refer to me as 'That sexy little vixen. Where did you pull her?' Then he sort of licked his lips in anticipation. I wasn't taking that. 'Behave yourself godamnit,' I told him. 'You're starting to annoy me.' They were shaken to see this quiet little girl suddenly turn angry."
The gentleman visitor to Ringo's suite turned out to be American singer-sonwriter Harry NilssonHe had arrived at the hotel with the intention of spending a bit of time with his great drinking pal Ringo.
"Harry Nilsson said he would meet us in and hour. Ringo and I looked at each other and smiled. I said 'No, you'd better make it two'. Nilsson, with a lusty grin on his face, slammed the door on us."
The following days Stephanie spent a lot of time enjoying the sights and sounds of Vienna with Ringo and Harry.
"One night as we were dancing in a dimly lit club to the tune Always, which Harry was singing, Ringo whispered 'Darlin, I'm falling in love with you.' I told him I was falling for him too. Next day I got a bit of the feel of Vienna as Ringo grabbed me in his arms and waltzed me round and round one of the city squares as Harry hummed a Strauss waltz."
The trio ended their trips around Vienna the following day when Ringo and Stephanie flew off to Greece.
"We decided to go to Greece for the weekend, as I have relatives there. As we flew away I told Ringo "'Say goodbye, Vienna. For this is where we fell in love.' 'It's not goodbye, darling, it's goodnight. We'll be back' he replied. But something was wrong. In a couple of days I knew Ringo was returning to Monte Carlo. I was flying to London, then New York. Would I see him again? Later that night I started to cry. ...I was touched when, instead of going home to Monte Carlo as planned, Ringo took me to the airport and flew with me to London."
After returning to London airport the two saw little of each other and the affair ended as suddenly as it began with Stephanie flying off to New York. She had by this time suffered for years of mystery illnesses and a growing numbness in various parts of her body, and on returning to her childhood home she discovered that she had Multiple Sclerosis.
"At first, the fingers on my left hand went stiff, then I started dropping things and falling. Then I started losing sight in my right eye. Then I was blind. For a long time doctors thought I had a tumor on my pituitary. Then they wanted to open up my skull and look at my brain... I might have five months to live, five years or I might go on forever. The first thing I asked the doctors last October when they diagnosed that I had multiple sclerosis - the incurable crippling disease that affects the central nervous system - was, 'Can I have children?' 'Hundreds,' was the reply. The second was how to console my mother. I didn't care about myself. So I hugged and kissed her and told her I would be alright."
After ten months away from London, Stephanie returned. And this was when she first told her good friend John Conteh that she had the disease.
"Tears came into his eyes and he cried. Then he carried me upstairs to bed and brought me hot milk."
Soon afterwards the two became lovers, and when Stephanie saw Ringo again in Tramp for the first time since their parting months ago, she had already fallen in love with John Conteh. Despite this she still she took the end of her relationship with the former Beatle very hard.
"I shed buckets of tears. I've never cried so much. It was the only time in my life I had been truly happy. Months later, as my mother Dimitria - I call her Dolly - sat at my side. I started typing the story of our romance for a screenplay. At that point late last year I was totally blind. I typed for 15 hours at a time. Dolly put the paper in the typewriter and if my finger slipped she corrected the mistakes with a pen."
By 1981 she was completely blind in her left eye, suffered periods of semi-paralysis down her left side and a numbness in her legs and hands. But few people could have realised any of this as she tried to carry on as normal and rarely spoke of it. In her condition getting cold could be very dangerous so she began to wear thick leather gloves and thick football socks to keep her hands and feet warm. When teased about the way she would wear gloves at the dinner table during lunch she would just laugh and say "That's because I am the Raging Bull's daughter" and pretend there was nothing wrong.
At this time, so long afterwards, she still cared for Ringo.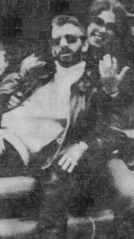 "Our affair was crazily happy, yet tinged with sadness. I think I left a little of my heart with Ringo and that I am still a bit in love with him...I loved Ringo for his mind, his cute ways, his funniness, his great warmth. On our third day together we felt we had known each other all our lives. We were so comfy together. Like my favourite movie star Humphrey Bogart - I've seen Casablanca 23 times - Ringo is the sexiest unsexy man I've ever met."
Stephanie's love life is quite possibly as famous as her father's career. John Conteh and and Ringo are amongst a long list of stars she fell in love with like singers Donny Osmond and Rod Stewart. In 1982 she was still so much a part of the music social scene that she even attended the birthday party of John Lennon's son Julian in 1982.
In the late eighties Stephanie was an aspiring actress but ended up becomming more of a fitness guru after following her father's workline and developing a business plan for organizing boxing workouts for women at health clubs. Bag work, rope jumping, shadow boxing and all the calisthenics boxers use. Thes may be common workouts for women in fitness clubs today but back then she couldn't get people to take her seriously.
"I was Thomas Edison with the light bulb at a time when no one wanted to see the light. I can't tell you how many gyms I went to and the answer was always the same: 'What, are you crazy? Women doing boxing workouts? Women don't even like boxing. No one would be interested. It'd never work.' So what happens? It's everywhere. Every gym in the world has boxing workouts. Thousands of women have discovered that boxing workouts are a great way to stay in shape."
In 1998 she was in a car accident which coupled with her illness has resulted with her now requiring a wheelchair and help everyday to dress and be carried to the bathroom.
"The air bag in my car deployed so violently it collapsed one of my lungs. The trauma of it all exacerbated my MS. Two days later, my legs went numb. Two days later, they were stiff. A month later, I was in a walker, then a wheelchair... I have a heavy bag in my garage and I punch it as part of my therapy. It's good therapy for anyone who's in a wheelchair. Do you realize how much frustration and hostility is associated with having to stay in one of these things?"
After over twenty years of suffering from the illness, Stephanie is still determindly and optimisticly battling on like her father used to do in his now legendary boxing matches, only these days she is the true hero of the family.

SOURCES: Many newspaper interviews, most notably the series about her life and loves in The Sun in 1981, and an interview with The LA Times in 2001.