Patricia Davies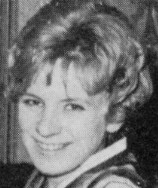 Three years his junior, fair, blonde, petite and schooled at St Anthony of Padua secondary school in Mossley Hill, Patricia Davies began stepping out with Ritchie in his teddy boy days. She was his first "official girlfriend" and known to him and her best friend Pricilla White (who later found fame as "Cilla Black") simply as "Pat". She lived with her parents in a red-brick victorian house at 83 Medlock Street in the Kirkdale area of Liverpool.
She shared young Priscilla White's glamorous ambition to become a hairdresser and "...That meant finding someone to practice on, but neither of our mum's would let us near their hair. The only woman we ever met who didn't mind us doing the practical work on her was Ringo's mother , Elsie Starkey. On Wednesday nights we went 'round to her house and she was the soul of patience. She let us bleach her hair and do terrible things to it, but she never once complained. She also gave us our tea - either boiled ham or Spam and home made chips. Mrs Starkey was a fantastic lady..."
Not much is known about her and Ring' as a couple, but when the 17 year old Richard suddenly found himself busy with his new band and decided it would be best if they parted company, the two liked each other well enough to stay amicable. Pat had suited Ringo down to the ground because they both shared a great love of music, and she frequented all the popular music clubs in the early Merseybeat days. During the "Pete Best riots" of 1962 when Ringo joined The Beatles, Pat could be found stood next to Cilla supporting her ex-boyfriend by loudly yelling "Pete Never, Ringo FOREVER!". Shortly after that Ringo was dating Maureen Cox, but still saw a lot of Patricia because she was a regular at both the Blue Angel and the Zodiac Cellar where the couple frequented.
Pat took a trip over to Hamburg when the Beatles and the Hurricanes first started working over there, although it is not known if it was Ringo she went to visit while she was over there. When asked about it by the Press in 1965 she pensively replied: "It's all past now; something I'd rather not talk about. The boys wouldn't approve it... I'm sorry. No comment."
At that time Pat had taken a job as a waitress at the Jacaranda along with another female friend of the Beatles, Ann Kay, who remembered when the boys used to play gigs there. "It was the Beatles who first brought us to the Jacaranda. They were always here in those days; it was their second home. They used to sit 'round drinking cups of coffee between their sets in the basement. But in those days they had no microphones or expensive equipment. Girls in the audience used to take turns holding up mikes - just the headpieces tied to broomsticks. The beatles and I don't talk about these things. After all, we've known each other for over three years now. They're my friends, and wouldn't like me to talk about them." Both of the girls were still friends with the band, and Ann did recall when she'd seen the group play a gig after they'd become famous in 1964 at Wigan's ABC cinema on October 13th and Paul had invited her backstage to meet up with the band. "They were just the same as they always were - ever so friendly, and so funny."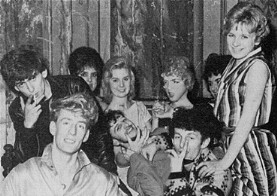 As all the old crowd became famous and moved to London, so did Pat. In the mid sixties she got a job in the music business at Polydor but spent her free time shopping and meeting for lunch with Cilla. The two always remained best of friends, and Pat was present at both the private and official weddings of Cilla and Bobby Willis. During the '70's Pat was such a frequent visitor at the Willis home in Denham that she had her own set of keys, and became the unofficial house sitter, nanny, and substitute mother to the couple's increasing family. Christmas was always spent there as the still single Miss Davies had no immediate family.
During the pilot show for Surprise Surprise (a British TV show hosted by Cilla Black), the two giggling friends had their fortunes told by a Jamaican lady who collected their auras and predicted that Pat would go to America and stay there. Robert, Ben and Jack Willis eventually lost their second, bossy mother - who had once made them ill by forcing them to eat a meal that their dad had "half cooked" for them. She left England with an American TV executive, whom she married in the early eighties, and they now live in New York. In the early nineties she appeared on a TV special celebrating Cilla's career and was seen walking through a recreation of the Cavern, recalling the days when she had stood there defending Ringo to a horde of angry Pete Best fans.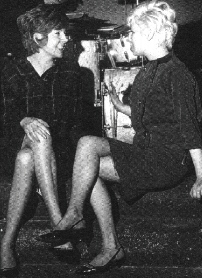 I shall leave the last word on the first of many females in the life of Mr. Starkey to her buddy, friend and pal, "Swinging Cyril":
"Pat has been a wonderful friend to us all, and she has a heart of gold."
SOURCES: "Step Inside" and "What's It All About?" by Cilla Black, "The Rocking City" by Sam Leach, various Beatles biographies and 1960s magazines.

**** **** **** **** **** **** ****



.
.
.
.
.
.
.
.
.
.
.
.
.
.
.
.