Ann Marie Guirron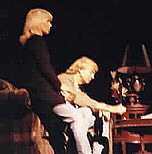 Ann Marie Guirron was born 2nd January in 1943 or 1944. She worked as a model and briefly dated George Harrison in the early 1960s when The Beatles first moved down to London.
Around 1966, Marie started dating Justin Hayward of the Moody Blues, and he wrote the song Nights In White Satin about the end of his previous love affair and the start of his new love with Marie - sorrow over one relationship ending and excitement that a new one was starting as well as doubt about the future of the new relationship.
On 19th December 1969 Marie and Justin were married, and bought a 250 year old house named The Courtyard just over a year later which is listed on the original map of Hampton Court as it served as a coach house to a grand manor house.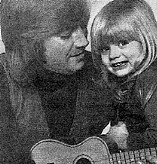 On 3rd December 1972 the couple had a daughter named Doremi Celeste. Justin wrote the song "New Horizons" during Marie's pregnancy. His father had recently passed away, and he wrote the song as a way of dealing with the loss of his father and the new feelings he had about becoming a father himself.
In the early 1970s Justin wrote some songs which were recorded by the Four Tops and published under the pseudonym of Guirron (Marie's maiden name), in order to keep the publishing rights with Motown. He also wrote a song about her which was released in 1979, simply titled "Marie".
Marie is a respected amateur golfer and was captain of a women's golf team at a prestigious London suburban golf club. The team called themselves the"Coombe Hill Hookers".

Justin and Marie are still together and were last reported to be living in the South of France.

SOURCES: Magical Mystery Tours by Tony Bramwell, various sources relating to Justin Hayward.


**** **** **** **** **** **** ****