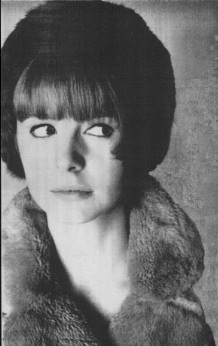 JANE ASHER
Neat pretty looks. At fifteen she's played Shaw's Eliza and the lead in Frank Marcus' new experimental play with the Bristol Old Vic.
To show clothes that are young but far from dolly, she wears, opposite, a white wool coat by Harbro, 10 1/2 gns., from Fenwick; white kid zip backed boots by Giusti, 6gns., at Russel & Bromley; white fleck stockings from a selection at Fenwick; kid gloves by Kin.
Left: The other side of Christmas, fluffy and frivolous, a lilac rabbit coat by Michele Rosier, 64 gns., from Maxine Leighton Boutique. Red rabbit hat by James Wedge, 13 1/2 gns., at Cpuntdown and Foale and Tuffin.
Jane was Wendy in Peter Pan. This year, just nineteen.