Pauline Behan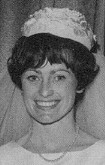 Pauline was a young Liverpool girl born to Mr. and Mrs. Gerry Behan in Liverpool. She lived in the Hunts Cross area, worked in Liverpool as a secretary at the Co-operative Building Society and was wildly into music. At first her main love was Jazz, but after seeing a young lad called Paul McCartney performing a song called Lend me Your Comb at the Casbah club, she went completely mad on rock'n'roll and this lad's band, The Beatles. "I thought the Beatles were absoloutely fantastic," Pauline recalls. She was initially drawn to one of their guitarists, John Lennon, but as it turned out she ended up becomming the girlfriend of one of their other guitarists, George Harrison.
When her boyfriend and her favourite band were away gigging in Germany, Pauline still wanted to go out and enjoy live music. While at a dance at the Orrell Park Ballroom during their Hambug trip of 1959, Pauline was asked to dance by a young lad who was very inquisitive as to her name and where she lived. It turned out he was a friend of the band on stage at the time, and one of the band - the lead singer Gerry - had asked him to go find out about her for him because he'd seen her around the Cavern Club a lot and thought her really pretty. A few nights later at St John's church hall in West Derby, Gerry himself came over to speak to her. As she remembers "Gerry came over at the dance and knew my name. He said he got the same bus home as me. I wondered how he found this out, but he told me correctly that it was the 81 bus. I thought this was strange, as we didn't live in the same area. That was how he was: a real little con man! Did I want to get the bus home with him? I said yes, OK. I was with Linda Kermode, my best friend. Near the end of the dance he came over and said they'd decided to get a taxi, but would give me and my friend a lift home. The plan was to go through Hunts Cross (where I lived) first, then through to Aigburth to drop off Les Chadwick, then to drop off Les maguire at the Pier head to catch the last ferry across the Mersey to his home in Birkenhead. When it came to it, the trip happened in reverse, leaving Gerry taking me home, just the two of us. I was fuming. When the taxi stopped outside my home, as I got out, gerry asked me for my phone number. But I was running up the path. It was late for those years - 12.30 in the morning. I knew my dad would be sitting waiting for me on the stairs. I tried to get my key in the door and Gerry was shouting for my number from the taxi. I knew all the neighbours' lights would be going on and I didn't want to be the talk of the district. 'Tell me your phone number, shout it, I'll remember it,' he was yelling. I shouted it to silence him, thinking he'd never remember it."
Pauline was so mad with this boy as she'd made it quite clear that she had a boyfriend who gerry knew very well called George Harrison, but still he was making a move on her. "When I was pestering her for a date, she replied that her boyfriend was George Harrison of The Beatles. But he was in Hamburg at that time, so I decided that while the cat was away..." Pauline was s sure that he wouldn't remember the number anyway so she wasn't worrying about it, but the following night she got a shock when she got back home. "Next night when I got home from my work... my dad... said a boy named Gerry had been on the phone for me. When he called again and asked if I would go out with him, I agreed to go to the pictures. The night after that, he was playing a dance and I went. And it snowballed from there."
She was still really fond of George and was so pleased when George returned from Hamburg and phoned to say he was dying to see her again. She went back to spending time with her boyfriend, and didn't see Gerry again until she was on her way down the steps to the Cavern where The Beatles were playing a lunchtime session, and gerry was on his way out. Gerry asked her to have lunch with him, but she declined because she was on her way to see George. Gerry decided he had to get her away from her boyfriend and took rather extreme action. As Gerry remembers: "We'd been out a couple of times by then. But Pauline said she was going to see George. I returned alone downstairs to the Cavern and went to George. 'Hiya, Gerry,' he said. I said, 'Don't smile. I've got some good news and some bad news. The good news is I'm in love. The bad news is that it's your girl.' The conversation didn't last long. I think he said something to do with sex and travel. I then went back to Pauline upstairs and I told her there was no need to bother to go down - 'I've packed him in for you,' I added. Pauline was furious, but I've always believed in dealing with problems head on."
Neither George nor Pauline took Gerry's announcement as the end of their relationship, but it shook them a little, and it was true after all that Pauline had been seeing a lot of Gerry while George was away. "George rang me that night," Pauline remembers, "and I said I was very sorry. He asked why I'd chosen Gerry Marsden, out of all the lads in Liverpool. George added, 'He's a flirt, you know.' I replied that he'd been a perfect gentleman with me."
George took Pauline to the cinema on their following date, and asked her to make a decision between him and Gerry, as he didn't intend to let her continue to go out on dates with him while she was his girlfriend, and Gerry had made it obvious that he was going to fight for her attentions and not give in. Pauline chose Gerry, but stayed very good friends with George and as Gerry remembers: "he often phoned her afterwards to ask how she was, if she was happy, which was nice."

Pauline was still very much into the Liverpool music scene and loved going to watch Gerry play gigs around the local areas. Unfortunately some of the places he played were a bit roungh, and on one occasion there was a huge fight before his band went on in Old Swan, so he locked Pauline and her friend in the dressing room at the side of the stage to make sure they wouldn't get hurt. It was long though before Gerry And The Pacemakers got a record contract, and the couple were still together when their single "How Do You Do It?" topped the charts. Gerry rushed in his Sunbeam Rapier to pick Pauline up from work to celebrate in Sefton Park with some fish and chips. "Pauline said, 'Blimey, wait til I tell my mum. What happens now?' I told her that Brian Epstein and George Martin wanted me to make another record, but no matter what happened to it, when I'd made it, I intended to get a proper job. I think I said that because I was panicking. I was simply over the moon at the thought that I could really score a success in show business. After my second and third single, I said the same thing to Pauline about 'getting a real job', and it became a joke between us... Pauline asked me what I intended to do now I'd had success with my second single. I said, 'make another, then pack it in and get a real job!' - which I have said ever since, after every record!"
Up til this time, Pauline had already been declared president of the official Gerry And The Pacemakers fan club, but the fans were now getting numerous and the amount of work was getting out of hand. Letters were pouring in to Gerry's home and his manager Brian Epstein's office. Brian was frequently phoning Pauline at work to ask her to call in and help him with answering them. Pauline happily took this work on with the help of her parents and would sometimes work n the replies until 4am in the morning. Soon there were too many sacks of mail to carry home and brian asked her to give up her job and come and work as part of his staff full time and deal with them. She refused to give up her job, but still wanted to help out, so the postman started delivering the sacks of mail to her home and she roped her friends into helping her answer them all. The friends were a great help because not only was the volume of the mail overwhelming, but the content of it - photographs, diaries gifts and underwear flooding in along with letters declaring undying love - was also a bit difficult for a girlfriend to deal with. "Here was I, staying in night after night answering these letters, and knowing my boyfriend was being faithful to me . . . and then came a letter from a girl which set me thinking that she'd spent more time with him than just enough to sign an autograph. She wrte things he'd been talking about. When he came home, I'd wipe the floor with him, wanting to know everything about these letters. I'd say: who's this girl? How did you meet her? We'd argue but my parents guided me through all this. Dad said to me, 'If I trusted anybody, I'd trust that lad. And you are very selfish. he's been on the road, he's tired, and you are moaning."
After falling out with Pauline before going off to Germany to play a few gigs, Gerry decided to write a song for her to win her back. "During this argument, she said, 'Right, that's the end, we are finished' and I wondered how I was going to get her to come back to me... I was lying on my bunk bed in the flat on the Grosse Freiheit, I saw a beam of light coming through a hole in the curtain. I don't know why the phrase occured to me - probably a mixture of emotions were running through my mind - but I remember thinking 'Don't let the sun catch you crying.' I said to myself, 'God, that's a nice title.' The Pacemakers couldn't figure out what I was talking about, but I got up and went over to the Star-Club where we were appearing, sat down and wrote it with my guitar there and then; it was featured in the show that night. As it seemed so appropriate, I taped the song and then sent it to Pauline. two days later she rang me and said, 'Gerry, let's get back together again'." The song was eventually recorded by Gerry And The Pacemakers, scoring a hit for them in 1964.

DON'T LET THE SUN CATCH YOU CRYING
(Marsden - Marsden - Chadwick - Maguire)
Don't let the sun catch you cryin' / The night's the time for all your tears / Your heart may be broken tonight / But tomorrow in the morning light / Don't let the sun catch you cryin' / The night-time shadows disappear / And with them go all your tears / For the morning will bring joy / For every girl and boy / So don't let the sun catch you cryin' / We know that cryin's not a bad thing / But stop your cryin' when the birds sing / It may be hard to discover / That you've been left for another / But don't forget that love's a game / And it can always come again / Oh don't let the sun catch you cryin' / Don't let the sun catch you cryin', oh no / Oh, oh, oh

Sometimes songs could keep the couple apart as well. "The songwriting difficulty came when they said the title song was to be called 'Ferry Cross The Mersey'. I asked if it could be ferry Across The Mersey', which would have been easier... but they said no. It was a challenge. I used to go down there with pauline and stare at the boats and try to get inspiration. Nothing worked... then one night I was taking Pauline out for dinner. I picked her up in Hunts Cross where she lived and we were going to Southport. In my head as we drove I heard the opening notes of the song. As we passed the ferry boats, I thought, 'Wow, that's it.' I stopped the car, jumped out and phoned my mother. I told her to put the tape-recorder to the phone and I hummed the tune into the tape. Then, returning to the car, I told a rather speechless Pauline that our dinner date would have to be cancelled."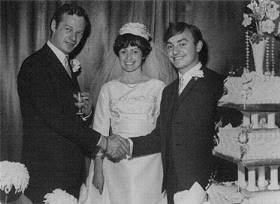 During the early half of 1964, Pauline and Gerry decided to get engaged, much to the dismay of Brian Epstein who reckoned it could be bad for his career, and wanted to discuss it with Pauline. "he called pauline to his office alone. 'It would be to gerry's advantage if he remained single in the public eye.' he told her, so if we did want to press on with the engagement, could it please remain a secret. Pauline was surprised and upset." Gerry took Pauline away on their first holiday to cheer her up, and before they went a jeweller went round to pauline's house with a selection of rings to choose from as they daren't go out to choose one in public if Brian needed them to keep their relationship a secret. Pauline was frustrated that she couldn't actually wear the ring either, so during the holiday in Las Palmas the couple got engaged quietly, and when they returned home, Pauline placed the ring on a chain around her neck. She also went to see Gerry's manager again to inform him that she thought the pretence was farcical now that everyone knew John and Cynthia Lennon were married. brain informed her that the Beatles were different as there were three others to carry the publicity, where as Gerry was the star in his band. Eventually brain had to give in to the couple's protests and they officially became engaged on New Year's Eve. On the 11th of October 1965, Pauline married Gerry at St Mary's Church, Woolton in Liverpool with Pacemaker and Beatles manager Brian Epstein in attendance. "We didn't have a honeymoon. We married on a Monday and fooled people by saying we were going out of the country straight away. But Liverpool football club were playing Juventus in the European Cup on the Tuesday and I couldn't miss that. The Liverpool manager... didn't expect us to attend and was amazed when Pauline and I showd up... Then we came back to the house and locked ourselves in for a while; we weren't bothered because everybody thought we were away. We had bought a house in Caldy on the Wirral. We loved the peace and space. We had two acres and after growing up with no greenery around us, it was a beautiful change. Pauline kept her secretarial job until we were married, but then I insisted she gave it up because I didn't want to return from touring to find my wife not at home during the day."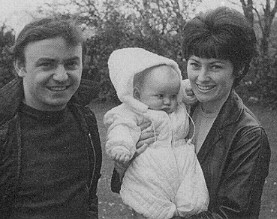 In 1966 Pauline gave birth to their first daughter, Yvette Louise on October 30th, and the little family enjoyed many weekends together at their holiday home in Anglesey.
The family eventually sold the house in Caldy and rented one in Ealing which they could never settle in due to strange noises in the night. "We heard strange noises coming from the sun lounge and Pauline would make me go and see who it was.. we had a nanny living with us, and Irish girl called Madeline, who used to say 'Gerry, I can hear gargling noises in the night!' This was a kind of choking sound. The whole place put us all on edge. About six months there I was in the bank one day and met out postman... He went on to tell me that a year before we moved in, a nanny had been murdered there in particularly gruesome circumstances. I didn't dare tell Pauline at that time, but started looking for a new home. As well as wanting to get away from Ealing, it was time to settle into something more permanent."
They moved to a house at Sunbury, but before long Gerry was wanting to go back home, and moved them to a house in the Wirral. "Deep down, I always intended returning to Merseyside... I wanted my roots back. Pauline didn't mind the South as much as I did... Once day I walked in the house and said, 'Come on, start packing, we're moving.' Pauline, taken aback by the speed of it, said, 'What are you doing?' I said simply, 'We're going home'." They had two daughters together, Yvette and Victoria, and she appeared with her husband on British TV in 1985 when the programme This Is Your Life was dedicated to him.
In 1998, Pauline lost her friend Linda McCartney and wrote the following tribute to her: "I'm absolutely devastated. Gerry and I had known her for years. We used to see her all the time. It's unbelievable. We all thought she had got over it. She was such a lovely lady. Paul really adored her... Because Linda was a private person, many people did not know the many sides of her. Not only was she a great and natural photographer and a brave campaigner for animal rights who single-handedly made vegetarianism a mainstream diet, she was also an incredible mother and a very loving friend to all who were privileged to know this unique lady. Linda was not only kind and loving, she was also a courageous and pioneering woman who made stand after stand for those not as strong as herself. For us, her friends, the brightest light has left our lives but she has left us a shining inspiration." There was some happy news that year too when Pauline became a grandmother after her daughter Yvette and son-in-law Ian had a baby.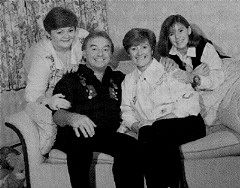 Pauline received upsetting news from America on the 28th of January 2002 after her youngest daughter Victoria, 21, was injured in a hit and run accident as she left the News Cafe Ocean Drive in Miami, Florida the night before. Victoria received serious injuries but was released from hospital after a short while to be with her parents who had flown out immediately to see her. Her friend Victoria Ellis who lived near the Marsdens in The Wirral wasn't so lucky and received critical head injuries.
Pauline is still married to Gerry and they live together in Merseyside.
SOURCES: various Beatles Biographies, magazines and newspapers relating to Gerry Marsden, as well as I'll never Walk Alone, her husband Gerry's autobiography which he wrote with Ray Coleman.

**** **** **** **** **** **** ****