Special Award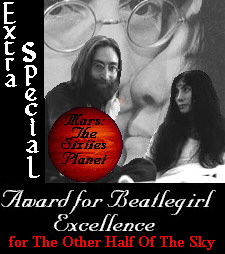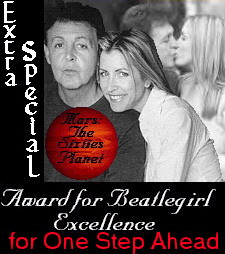 To suggest a site which you think shows
great support of the Beatle Girls and
offers something for Beatle Girl admirers
to enjoy, then please email me with the
website's address so I can check it out
and possibly send out an award.
. . . .
RECOMMENDED READING
A Twist Of Lennon - Cynthia Lennon: gets extra special points for actually being written by a Beatle Girl who had other Beatle girls as some of her closest friends. A loving and at times very touching account of Cynthia's life with John and The Beatles which would be invaluable just for that, but also includes lovely stories about Maureen and Pattie, and the events which led to John's relationship with Yoko. It also contains some very sweet drawings of The beatles and their girls drawn by Cynthia herself who was attending art school when she met John.
John, Paul & Me Before The Beatles - Len Garry: written by one of John's close teenage friends who was also a member of The Quarrymen and a boyfriend of both Barbara Baker and Margaret Jones, this book is full of personal detailed recollections of all those involved in that period of John's life. Copies also include a CD interview between Len Garry and John's best friend Pete Shotton in which Barbara Baker gets a mention. One of my favourites because it is written in a way that makes you feel as if you are there living though the period, and is highly reliable because it is written by someone in the thick of it all.
Linda McCartney The Biography - Danny Fields: written by a friend of Linda's from the sixties who knew her til the end. It provides a view of Linda that cuts out all the hype and the post-Paul bashing. A true and caring account of the real Linda.


Ringo Starr Straight Man Or Joker - Alan Clayson: the only Ringo biography and therefore an invaluable collection of infromation about his dalliances with females throuout his life.
Pictures
Excellent collections of pictures of Beatle Girls can be found in the following books:
- The Beatles Unseen Archives by Daily Mail (Jane, Cyn, Pattie, Mo, Yoko, Lin, Olivia, Barbara Bach, Nancy, Shelley)
- The Beatles Files by Andy Davis (Cyn, Pattie, Mo, Jane, Yoko, Lin)