A statement from Juliet Gellatley, Founder & Director of Viva! & Vegetarian & Vegan Foundation:
"Since Heather has been associated with Viva! and the VVF she has never missed an opportunity to gain publicity for us and to give her time generously - and it has succeeded magnificently. Heather is not just a working class girl who made good, she is a working class girl who rose above an appalling upbringing to achieve great things - and she was going to be successful whatever she turned her hand to because she has all the qualities necessary. That, I believe, is something to applaud not denigrate. I am delighted that she has the love, admiration and support of her sisters and close friends to help her through these hard times. She certainly has mine.
"When I read the spite directed at Heather I think of the night earlier this year when I attended a debate on fur at the Oxford Union with her. Knowing that a picture is worth a thousand words, when Heather was speaking she gave a prearranged signal to her sister Fiona who stood up, faced the audience and turned on the body TV which had been hidden under her coat. It showed a dog being skinned alive and its piercing screams of agony shrieked out into the hall and the tears rolled down Heatherís face. No matter how many times she sees or hears this footage, it tears her apart - and it has a similar effect on me.
"Heather Mills McCartney cares and I wish to god there were more like her."
Becomming Vegetarian
Heather originally became vegetarian for the sake of her health after losing her leg. When the wound refused to heal and was constantly infected she took the advice of a friend who had been cured of breast cancer at the Hippocrates Institute in Florida. The Institute - which is based around holistic healing methods - insisted she come off all antibiotics and medication, put Heather on a raw food vegan diet and used wheat grass and garlic poultices on her wound. "In one week my infection cleared up and then my wound started to heal! It was unbelievable. The cavity Iíd been fruitlessly cleaning for over three months suddenly healed over with pink skin. It literally healed enough for me to get a leg fitted while I was out there"
On her return home to the UK Heather struggled for a year and a half to stick to the diet which was difficult to source in the UK. Rather ahead of her time in her enthusiam for wheatgrass juice, the British media found it difficult to accept her new regime. "I tried to tell them about its amazing healing effects but everyone thought it was just completely nuts!
"I stuck with it for a year and a half. And it was very difficult - I grew my own wheatgrass. My whole house looked like an indoor garden centre! I brought a wheatgrass juicer back from the US because we didnít have anything like that here back then. After that time I introduced cooked foods back into my diet. ...I looked the best Iíve ever looked in my life. Itís the best diet, really healthy but itís not realistic in everyday life if you want to eat out and have romantic dinners with your partner!"
Although the strictly raw-food vegan diet and enthusiasm for wheatgrass waned, Heather reamined Vegetarian and truly realised the benefits to animals as well as her health when she met Paul McCartney. "itís definitely a healthy diet and saves animals, which is very important to me as I detest cruelty. Itís only since I met Paul that I really got to understand how vegetarianism not only benefits your health massively but also makes a huge difference to the planet, to animals and to feeding the world. And being veggie makes you feel great! I could never go back to eating meat or fish and Iím moving towards being vegan. When I crack an egg now, I look and think, ĎCould that have become a baby?í All that stuff goes through my head but then I think, ĎOh well, how could I make my cakes without eggs and what if I wanted to have an omelette?í. But Iíve found there are egg replacers and I make scrambled tofu and drink soya milk. I really admire people who are vegan but itís hard with our lifestyle. Maybe when weíre settled in one place and our babyís in school and I can really get focused on creating some fantastic vegan dishes, then I might go for it."
More insight into Heather's conversion to the vegetarian lifestyle can be found in the exclusive VIVA! interview on their website.
PETA Campaigns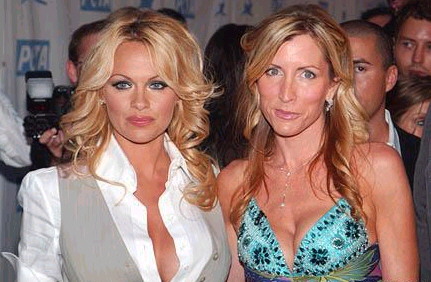 Heather was presented with a Humanitarian Award at PETAs 25th Anniversary Gala and accepted it "on behalf of all the amazing people who are happy in their own skin and don't need to murder somebody to wear theirs."
In 2006 she was in the running for PETAs "World's Sexiest Vegetarians" poll alongside her husband Paul McCartney.
"Heather's fur farming expose continues to be one of the top videos at PETATV.com and we will always be grateful for her work for animals."
Dan Mathews - Vice-President of People for the Ethical Treatment of Animals
Don't Wear Fur
Heather helped launch a PETA boycott against $800-million-a-year clothing chain J.Crew in 2005 from outside its Madison Avenue store in New York City after the company began selling fur. After leading the boycott for several weeks, her efforts paid off and on 30th November, J.Crew announced that it had ended all fur sales and pulled all fur from its racks.
At a news conference inside the New York Fashion Week tents, she screened a graphic video of animals in China being skinned alive for their pelts and unveiled her PETA ad campaign, "If You Wouldnít Wear Your Dog, Please Donít Wear Any Fur."
In 2006 Heather issued a consumer alert about several top fashion brands whose fur garments may be made of dog and cat fur.
Heather's step-daughter, fashion designer Stella McCartney has been a long time anti-fur campaigner. You can send an anti-fur Stella e-card via the PETA website by using the link below:

Cruelty-Free-Shopping
In 2004 Lady Heather took part in the creation of a Cruelty Free Shopping guide for PETA, and gave her image for the cover. The guide includes a list of more than 500 cruelty-free companies, charities that do not support animal testing, a list of animal ingredients to avoid, and valuable coupons. All of which help contribute towards leading a cruelty free lifestyle that is kinder to animals and prevents their exploitation.
PETA have kindly allowed me the use of the front cover picture which is featured on the right. Copies of the current issue can be ordered online by clicking on it. There is also a free pocket-guide which you can download and print out from the website.
Heather continues to encourage cruelty-free shopping and features in the PETA ad campaign.
Appreciation for her work on behalf of Animals
"Heather Mills McCartney has made an enormous difference for animals and the work of The Humane Society of the United States/Humane Society International - giving traction to legislation in the European Union to ban the sale of dog and cat fur, persuading international retailers to stop selling fur, and raising worldwide consciousness about the clubbing of baby seals in Atlantic Canada. We are so grateful for her passion and her tireless efforts on behalf of animals, and The Humane Society of the United States/Humane Society International and I look forward to working with her in the years ahead on major issues related to the needless abuse of animals."
Wayne Pacelle,
President & CEO of The Humane Society of the United States
"Heather's continued and energetic support for the campaign for an EU-wide ban on the import, export and trade in cat and dog skins, is of crucial importance in achieving our objectives. Heather is a committed animal welfare activist and tireless worker against their abuse. She enjoys my total confidence as a valued ally and co-campaigner."
Struan Stevenson MEP,
Vice-President of the EPP-ED Group in the European Parliament
"Respect for Animals is so proud to be working with Heather. Her dedication to highlighting the cruelty behind the glamorous facade of fur and the energy and enthusiasm she expands in doing so is truly amazing. The animals are lucky to have Heather on their side and we are extremely grateful that she is continuing to help and support our work, especially at such a difficult time for her personally."
Respect for Animals
"As Chief Investigator for the Humane Society of the United States, I have personally witnessed some of the most unspeakable cruelty to animals that exists in this world. It is only the tireless efforts and leadership of people such as Heather to bring an end to these atrocities that make it possible for me to continue. I am extremely proud to be able to assist her in her efforts."
Richard W Swain Jr
Vice President, Investigative Services, Humane Society of the United States / Humane Society International

**** **** **** **** **** **** ****